about us
PawPaw Spa & Grooming is a premier pet aesthetic services provider located in Edmonton, AB. We hire the most professional and caring groomers while offering high quality products and exceptional customer service. We are also equipped with the latest and most advanced grooming technology so that your furry friend will enjoy a luxurious spa experience. We understand that the health and safety of your pet must be your top concern. Therefore, all the products we use and sell are 100% natural.

Here at PawPaw Spa & Grooming, we employ some of the most experienced, talented, and hard-working grooming specialists in town. We provide our groomers with continuous training and career development opportunities to catch up with the latest styles and technology. Please visit our gallery page to view some of our groomers' work.

Customer satisfaction is always our #1 priority. Our professional and experienced groomers are not only there to answer your questions, they will also provide you with a detailed report after each grooming appointment. At PawPaw Spa & Grooming, you can rest assured that your furry friend will always receive the best care and style.
our services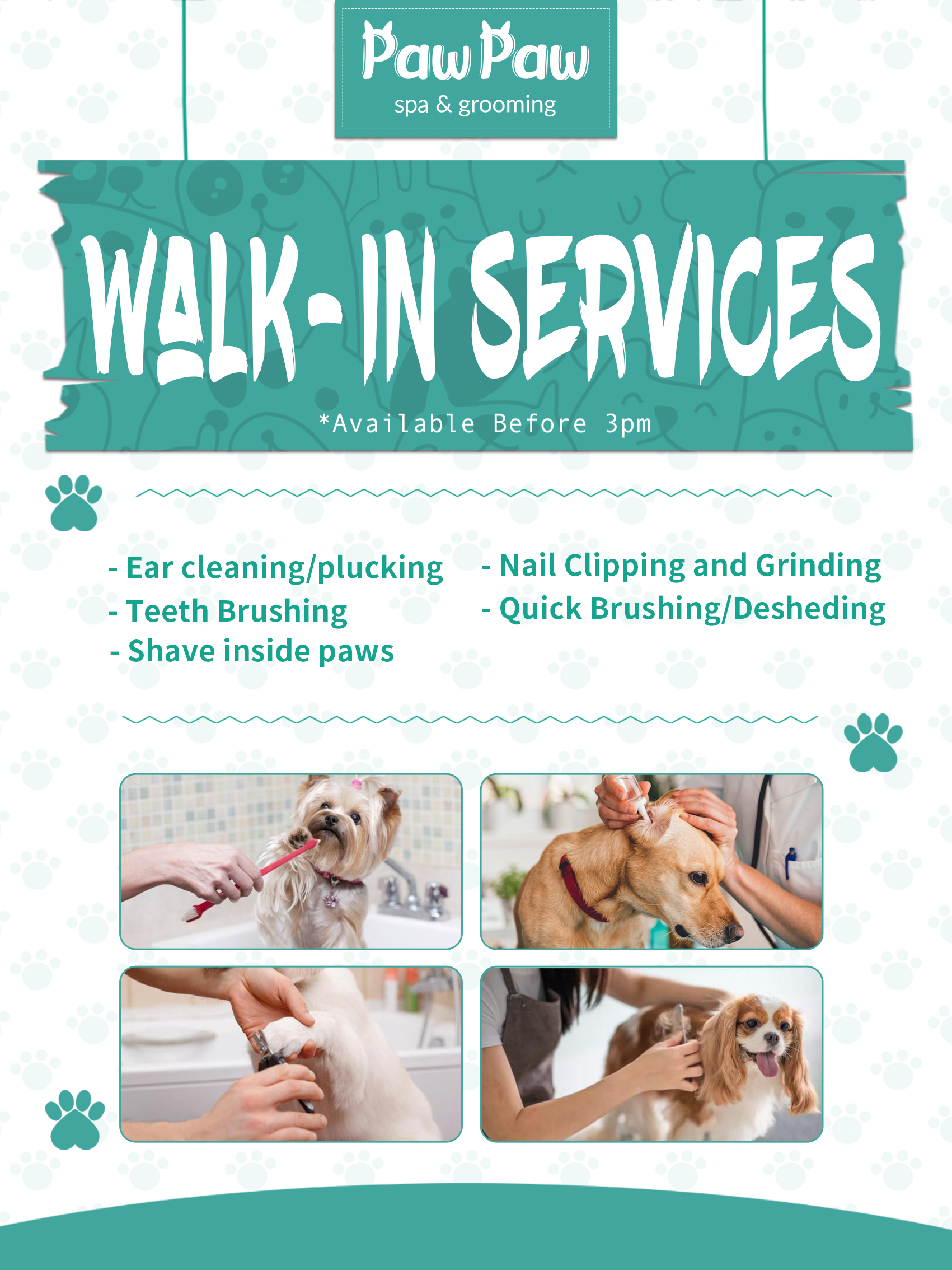 Dog Services
dog size
bath & tidy (basic price)
full grooming (basic price)
small
$50
$70
medium
$60
$80
large
$80
$115
x large
$100
$135
xx large
$120
$150

*Bath & Tidy includes ear cleaning, nail clipping & grinding, shave inside paw, anal gland expression & tidy paw, bum, tail and face.

*Full grooming includes Bath & Tidy + full body styling & trimming.

*Price may change depending on temperaments, coat conditions and sizes.
Additional Dog Services

teeth brushing

$8

paw cream & massage

$5

ear cleaning

$10

nail clipping & grinding

$15

nail paint

$15

hair dye

$10 - $25

skin & hair care

$5 - $15

Ozone Spa & Massage (milky/essential oil, bath salt, or skin treatment Spa)

$20 - $40

Full Spa Service (Ozone spa+ skin/hair care with steamer+deep massage)

$25 - $55

Cat Services
type of service
basic price
Bath Only
$70
Bath & Shave Down
$100

*Bath includes bath, shampoo, dry, and nail clipping.

*Bath & shave down includes bath, shampoo, dry, nails clipping, and shave down.

*Prices can go up depending on behavior, coat condition and size.